Astute IRCers may have noticed I've been on vacation. I'm now home, chillaxing1 after having spent a few sunny days in Las Vegas.
It was my second time visiting the City of Lost Wages. I met up with a friend from the right coast and a couple more (local) friends joined us the next day.
This trip was more fun than last time, I think mostly because we did things other than gambling this trip around. We visited Hoover Dam2 in addition to actually going to see a few shows.
I think my favorite was La Reve, but we also saw Blue Man Group, which was unexpectedly engaging and fun. We also randomly happened to catch Penn & Teller, an act whom it's hard to go wrong with.
Being the plane geeks that we all are, we also spent the last night at the pricey3 MGM Grand, with room overlooking KLAS's one-eights.4
We also sampled a bunch of buffets. The Bellagio's, while somewhat pricey, still stands as the King of Buffets. (Never eat at The Trop. You've been warned. In fact, you're better of ignoring, for the purposes of visiting Vegas, that the whole hotel exists.)
I also learned how to play blackjack in not an entirely lose-all-your-money manner. The first time I was in Vegas, I was a bit too intimidated to sit down and be required to interact with a real dealer. This trip, I learned that some dealers can be jerks, but for the most part, they're generally nice. I suppose I should've expected this, since you're basically there to give them all your money… and it would behoove them to be not-jerks.
In one of the hotels we stayed in, there was a big scary sign about removing items from the mini-bar; one of the friends who showed up the next day didn't read the sign, and started pulling a bunch of things out of the bar to inspect what type of booze-ahol they were, and then put them back. "Ooops."
At one of the friendlier blackjack tables, one of the players was asking what we all did. I mentioned I worked on Firefox, and he said he'd heard of it, but—once again—asked why he should use it.
I don't know if it was because of the free drinks or because I was up a few hundred bucks at that point, but I… remembered my friend digging through the hotel room minibar and spouted what I think would make a pretty good new slogan: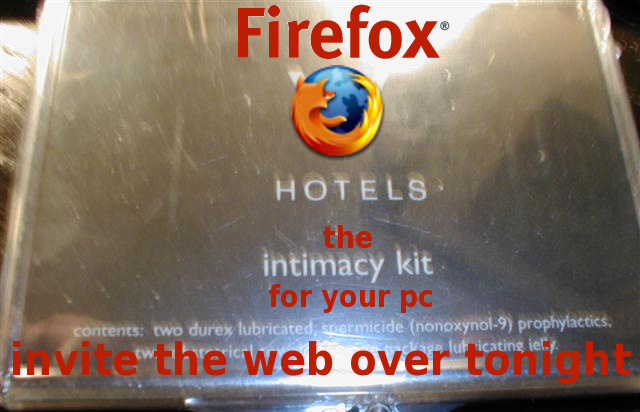 I'm sure pkim and cbeard will love this
5
The whole table couldn't stop laughing. Hopefully that'll turn into a couple new users.
Since I did not hit the $16.8 million Vegas Bucks
TM
jackpot, nor make a million playing table blackjack, I will be back, reading email and on IRC tomorrow.
__________________
1
As the youngins these days call it
2
"For all your dam needs!"
3
But actually worth it
4
I'm the one in the picture in the chair, with the martini, operating the radio. Obviously.
5
Lamentably, I am without camera. Still. So Lee L (??)
provided this image
, via Google Image search.