With a time-warpish flight, the Nomadic Build Engineer '07 Tour has come to an end.
I think United is playing games with the flight times on this flight: they claim it's about a five and a half hour flight on the plane, it's published as a five hour, forty-five minute flight, we left JFK almost fifty minutes late, and got into San Francisco a half-hour early.
Yah, I don't get it either.
I flew United home, so of course I listened to channel 9 (the ATC audio channel) and got to enjoy the beauty of the nation's aviation transportation infrastructure again.
No matter how many times I fly commercially, I'm always amazed that "RBV J230 LARRI J230 AIR J80 EMPTY SPI J80 HLC HGO J197 DVC ILC RUMPS OAL MOD3" gets turned into: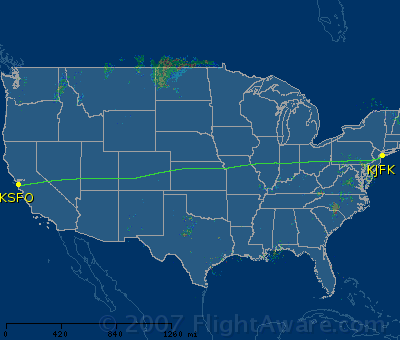 ***
We went plane-spotting at JFK for a few minutes right before I left; aircraft operations out in the east are, like most things, slightly different than out in the west. They cram the planes in closer together, and when they're not running instrument approaches, they do weird things like have them turn a three or four mile final at only 2,000 feet.
We got to see a bunch of big planes skid the turn to one-three-left today; they tend to keep their speed up, because they all have traffic on their tails, so it's very interesting to see them come out of the turn, drop everything in, and plant it on the runway.
Especially when the plane is something like a
747
or A340.
A 20 knot crosswind kept things interesting.
I was gonna grab some of the clips from air traffic control that kept things… bearable (but probably only for me… since I was seemingly the only one sitting in my seat, giggling) while we sat and waited for fifty minutes, but it turns out that JFK's ATC Internet feed is multiplexed, so… the joke about the pilot asking "A few
whats
between friends?" isn't as funny when the recording missed the tower controller saying "What's a few digs between friends?"
Lamentably, it also only grabbed half of the conversation about the pilots "turning into pumpkins" in a half hour.
***
Oh, and to my New York hosts: thank you. This trip was fun and memorable… for more reasons than you know.
And Tony: I promise next time, we'll let you make omelets.