If you've been wandering around the Mountain View office, wondering where I am, I've just finished wek one of the Nomadic Build Engineer '07 Tour.
First stop for the tour bus: Toronto!
While soaking up that world-renowned Canadian hospitality, highlights included:
I only took like three pictures in Toronto, and this was one of them. It's a statue of Winston Churchill in [[Nathan Philips Square]]; as you may be able to tell, the pigeons have a particular fondness for Churchill['s head], but frankly, haven't we all felt a little like that about Churchill['s head] at at least one point in our lives?
A few conversations with mconnor about build-related needs for Firefox 3, so there are little-to-no surprises.
Learning what it's like to be remote to a bunch of meetings.1
A meetup with Ben Hearsum, Buildbot-er extraordinaire. Chatting with him was a double-header of release automation fun-ness3 and a review of someTinderbox code. Once we got the bad taste out of our mouths, we started brainstorming requirements for a build harness that might eventually replace Tinderbox Client. Ben then filed bug 384943 today, which rhelmer, cf, and I all noticed pretty much in unison.4
My first encounter with [[poutine]]; I don't think I'll ever be the same again, but my arteries thank you, Gavin and Johnath!
My first encounter with Beer Bistro; I don't think I'll ever be the same again, but my liver thanks you, Gavin and Johnath!
A trip to the ballet, courtesy of Lucy; they were performing Don Quixote5; it was a dress rehearsal, so every once in awhile the director would stop everything, give a bunch of notes, and then they'd re-do it. It was great! Like Tivo-for-ballet!
Riding the Toronto subway.
Walking up and down Church St. with Lucy at 2 in the morning.
Cursing Beltzner for listening to his wiki-suggestion to stay in the downtown Days Inn, who has seemingly confused "beds" and "layers of cardboard with sheets."6
A stop at Active Surplus, which is kinda like a Canadian version of Weird Stuff. Johnath has promised to build me a control panel with those old switches from the Cold War movies that have the protection cover over them to launch the missiles. "Firefox 2.0.0.5 released… now!"7
While walking down the street, I asked Johnath: "Does Canada have any assholes? You're all so nice here," and of course, on cue, someone guy started laying on his horn constantly as we walked by. So I learned that, despite my earlier perceptions, Canada does indeed, have at least one asshole. But for a country of thirty million people, that's pretty good.
Even though they are Canadian, Air Canada is still like every other airline. They just say "We're going to screw you, eh?" and thank you for the opportunity to do so when they're done.
A special shout-out to the Toronto office for taking me in, and dealing with my [now extra] screwed up sleep schedule. I had a lot of fun!8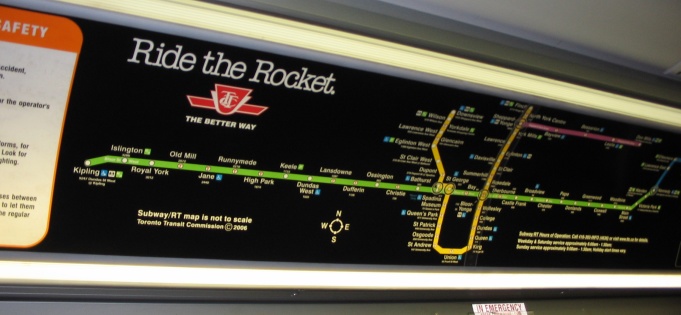 The Toronto Subway was fast, clean (of course!), and easy to understand. A+++++!!!!! WOULD TOTALLY RIDE AGAIN!!!
But more than that, it's been one of the most productive trips I've been on in terms of strategic planning (hey, imagine doing
that
in Build-land, for once!)
***
Week two has me in New York City, meeting up with Ted Mezerk… Ted Mylizkriy… Ted Mcyzkiske…
luser
to work on Build Things for the next alpha.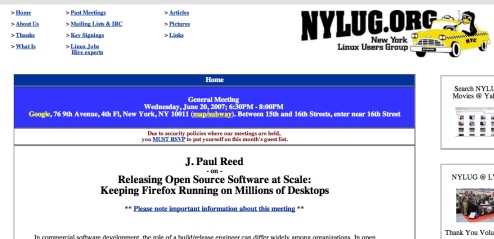 Shameless self-promotion. And on my own blog, too!
Also, on Wednesday evening, the New York Linux Users' Group, one of the largest LUGs in the country is hosting me for a talk about releasing Firefox to millions of users and the unique challenges that presents how I drink scotch all day and the Mozilla community makes me look good.
The talk is Wednesday evening, but you have to RSVP by Tuesday afternoon, so if you're interested, head on over to the website.
Should be interesting (babbling), if nothing else.

***
14:53 <@preed> cf: so, I'm in NYC right... and I'm right next to little Italy

14:53 <@preed> so I've been enjoying the Italian food

14:54 <cf> nice

14:54 <@preed> but like... they have chianti with EVERYTHING

14:54 <@preed> "Uhm, no... I didn't order any wine with lunch... well... ok."

14:54 <@preed> "(Twist my arm.)"

14:54 <cf> twist it hard

14:55 <cf> makes afternoons kinda fun

14:55 <@preed> it sure as hell makes them go faster!
______________
1 BRING THE MIC CLOSER! So that I might… join with it. Do it. NOW!2
2 Sorry… sorry… awful Star Trek V reference.
3 That will likely involve some BuildBot subclassing hotness
4 And I don't mind telling you that it made us all a bit tingly in our special places.
5 Am I the only one who kept pronouncing it "Don Kwix-oat" until I was like 16?
6 I still <3 you, though, Beltzner; especially since you're still reviewing my presentation? Right?
7 Of course, QA would have the other key, and we'd have to turn them together.
8 So much, in fact, that I've started thinking about what it would take to work from the Toronto office for like… a year. I really like the feel of this city, and I've never done anything spontaneous like that. Of course, this is one of my [many] harebrained ideas, so it's unlikely to go anywhere… but you never know. This one may stick!